Best Crypto Exchanges of 2022 [Detailed Guide & Review]
Best Cryptocurrency Exchanges
Binance.us (USA)
Binance.com (Worldwide)
Crypto.com (Worldwide)
Coinbase (Worldwide)
Kraken (Worldwide)
Gemini (Worldwide)
This detailed guide covers the top crypto exchanges for investors throughout the world. Major exchanges have grown significantly in the last 18 months due to the popularity of Bitcoin and crypto in general. The crypto market in general has been in the news frequently this year. Most crypto exchanges are centralized. There are also many decentralized exchanges which I list in this guide.
In this guide, I cover crypto exchanges in detail, covering many of the major benefits and details of each of the crypto exchanges mentioned. The very best crypto exchange is debatable. In this guide, I wanted to share with you some of the crypto exchanges which will allow you to buy and sell crypto as needed.
Best Crypto Exchanges: Binance.us USA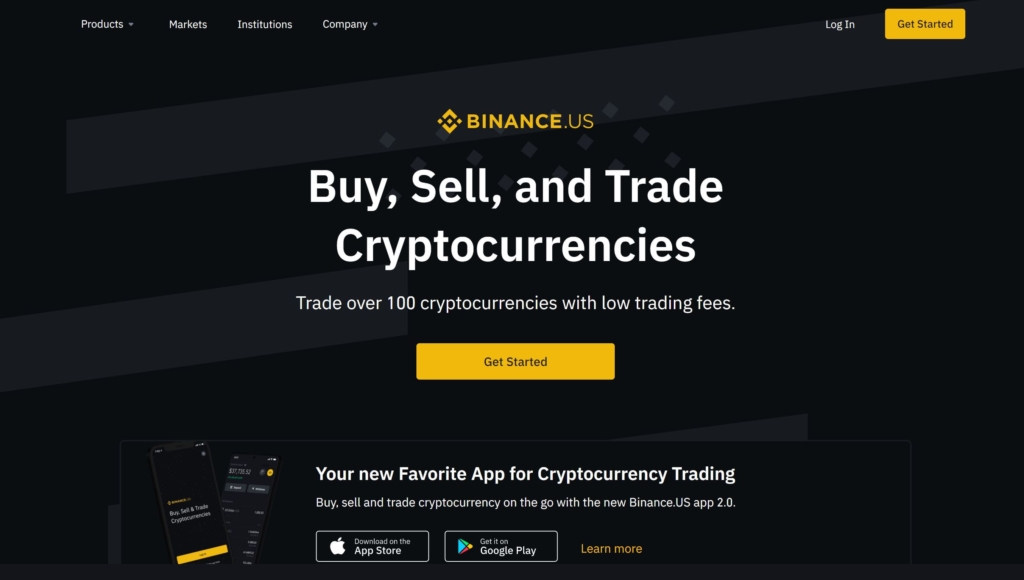 Photo credit: Binance.us
Binance has successfully been able to make itself a huge name in the blockchain industry, following the mind-blowing services that have made it easy for users to carry out their tasks using blockchain technology. It is the most popular as well as the one with the highest trading volume in many countries. While it has created an entire ecosystem consisting of services like Binance Visa Card and Binance Academy, it still intends to develop all sorts of projects that could potentially reduce the complexity of this technology while providing incentives at the same time.
However, regardless of its huge success, it has not been able to compel with the laws and regulations provided by the US Government hence facing a ban on providing its services in The United States. The government believed that Binance was offering 'securities' that required extensive licensing and they also alleged of Binance was involved in a money laundering case.
Instead of changing its already successful platform, the team created an entirely new exchange for the citizens of the US that was made keeping the terms of the state in mind. Although these two projects are based under the same name, Trading crypto derivatives is not possible on Binance.us
Binance.us Exchange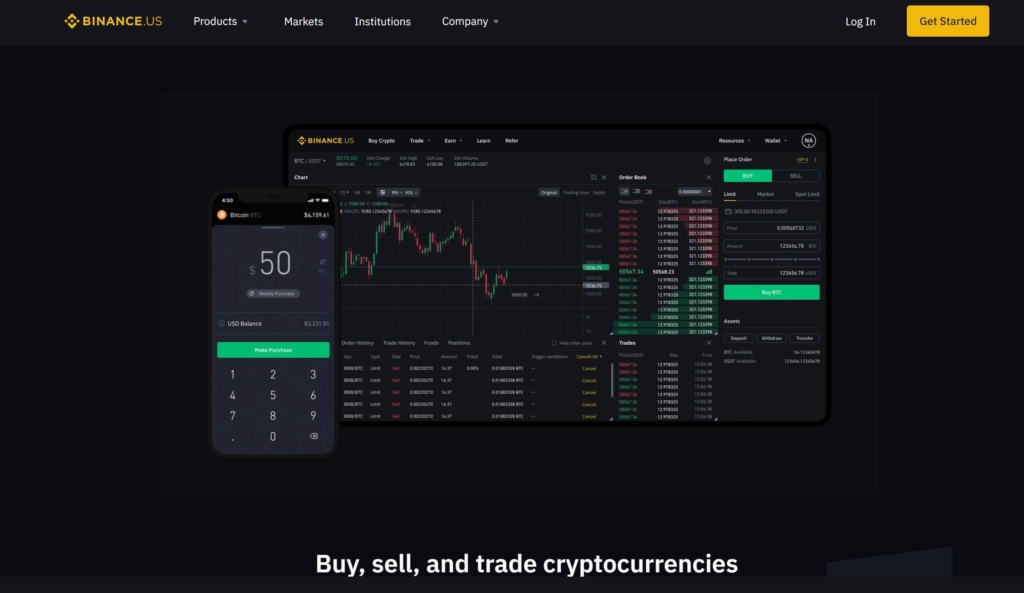 Photo credit: Binance.us
Binance crypto exchange offering great features. While Binance is one of the top crypto exchanges and is packed with around 600 cryptocurrencies and more than 1200 trading pairs, being one of the largest cryptocurrency exchanges. Things are slightly off for US citizens as Binance.us is currently offering around 100 cryptocurrencies and currently offers competitive trading fees.
Crypto Exchange Explained
Having fewer users than the global version, Binance.us also faces a lower volume of trade than its other crypto exchange. It, however, matches the trading fee with its sister company as both the exchanges charge 0.10% as a base fee. While the user interface of both exchanges is somewhat alike excluding the availability of some features in the US version. Even though it was created under many specifications and restrictions, it has been able to beat out all the competitors in the US market, therefore, being the most used and popular among crypto investors in the USA. It allows users to deposit funds and buy crypto. Each person that signs up and logs into their new exchange account will upload KYC documents that confirm the identity of the user.
Binance Smart Chain
Binance smart chain is an essential part of the system which acts as a blockchain. It is also available for US users just as it is for the rest of the world. However, it isn't as effective as the global version because Binance.us which is one of the centralized exchanges does not support the BEP-20 token while it is necessary to make use of the BSC. Due to this, users would have to engage in complications such as using the Binance Chain wallet and MetaMask to carry out funds transferring on this chain. Although, they can still make use of many of the benefits provided by the BSC such as cross-chain transfers which allow your best crypto assets to be transferred easily on various supported blockchains.
Moreover, it is also of great use for developers as it allows for the creation of decentralized apps, thanks to the availability of smart contracts. Crypto exchanges work to make use of the proof of stake system which makes Binance Smart Chain or BSC more efficient than the system of proof of work used in coins like Bitcoin and Litecoin. Lastly, it expands its usage by allowing EVM compatibility which makes all the assets available on the Ethereum blockchain accessible here as well.
Binance Coin (BNB)
Binance coin works as a fuel for the whole ecosystem of Binance as it drives all the trades and activities that are being conducted on this platform whether it is the US one or the global one. Being the native token, it runs on its blockchain now while in the initial launch, it made use of the Ethereum blockchain.
The most amazing thing about this token is that users can save up a lot by using it for discounts on the Binance.us as well as Binance crypto exchange. Due to being part of the big name, it saw massive growth in its price in 2021 making it secure itself a place in the top rankings of the cryptocurrencies. BNB has gained so much trust that many companies have started to accept it as a method of payment for online bookings and purchasing. Furthermore, BNB is offered a burning process overall that would make the coin limited and of a higher value with time.
Binance Academy
There may be many differences between Binance.us and Binance.com, but their users get united under one place which is the Binance Academy. A platform where education is most valued is Binance cryptocurrency exchange.
believes in educating the public about crypto and blockchain technology to further increase their adoption among users. Users from all over the world can access Binance Academy even if they haven't started their crypto journey yet or don't have an account on the Binance crypto exchanges. As with many crypto exchanges, it covers all the necessary topics and information you will require to get started with this technology with over 450 videos in around 15 languages, ensuring no one gets behind in acquiring knowledge and how to operate in a secure crypto exchange.
Conclusion
In conclusion, crypto traders don't have a choice when selecting which platform they will go for as Binance.us is only restricted to US citizens while Binance.com is available for all countries except for US citizens. Although there are some drawbacks to the US users such as the unavailability of many cryptocurrencies they still have the same fees and liquidity availability as Binance.
Best Crypto Exchanges: Binance.com 
Photo credit: Binance.com
Binance is one of the top global crypto exchanges and the largest crypto exchange aiming to provide users with everything necessary. From Binance Chain to Binance Smart Chain, Binance Academy, and Trust Wallet, offer a complete ecosystem. Binance as one of the largest crypto exchanges it can be considered the Google of blockchain technology as it further plans on becoming the infrastructure services provider for the entire blockchain ecosystem. It has partnered with several companies to increase blockchain adoption along with the use of cryptocurrencies.
However, along with immense success, Binance also had to face allegations of money laundering that led to its ban in the United States while also suffering a great security breach that made them lose $40 million in Bitcoin at the hands of hackers.
Furthermore, it has also been reluctant in compelling with UK's laws which might make it face a complete ban from their side as well. Although it has been a huge success in various countries in Europe such as France while people in Asia mostly prefer using Binance primarily. This growth has also made it capable of acquiring top blockchain-based companies such as WazirX and Trust Wallet as well.
To cater to such a great number of people, it has come up with every possible way to ease users' time with the usage of cryptocurrencies and hence brought multiple services that this blog takes you through.
Binance Exchange
Binance is the largest centralized crypto exchange that enables user to trade and buy crypto with over 600 cryptocurrencies offered. The main reason for its high popularity is its low fees that allow users to make more profits and pay less in transaction fees. Moreover, it provides high liquidity that allows for easy trading of various crypto assets.
Crypto exchanges like Binance, also bring various trading options such as spot and futures. Another amazing thing is its capability to process around 1.4 million orders per second which further proves its popularity. In addition, it contains all the necessary features such as limit order or stop loss that are required to carry out smooth trading. Binance.com offers crypto loans to investors who leverage their crypto assets by obtaining an instant loan against them. The loan-to-value varies depending on which crypto asset is being leveraged against.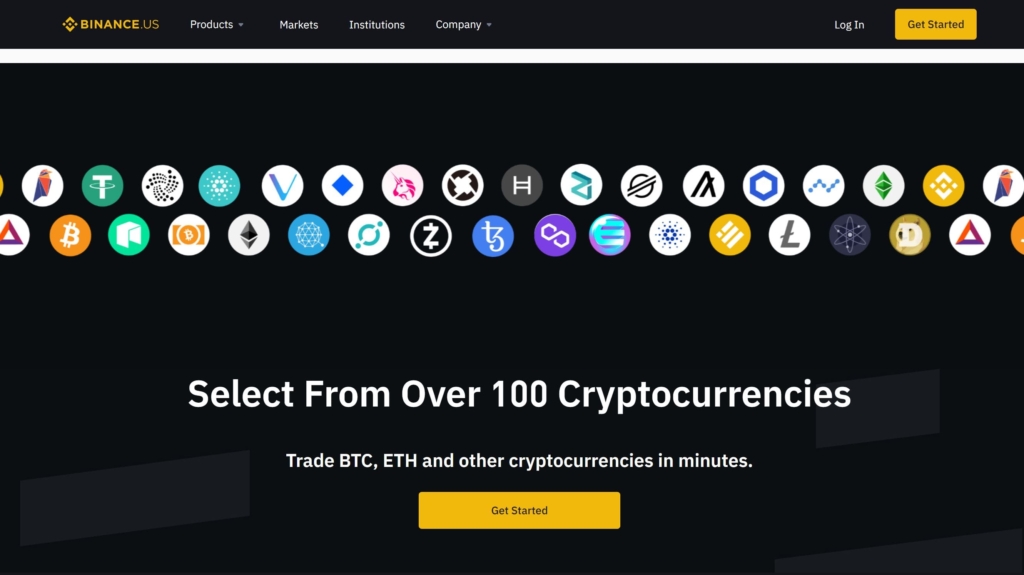 Photo credit: Binance.com
Binance Coin (BNB)
Binance Coin is the native coin of the Binance ecosystem. Initially, it was based on the Ethereum blockchain but with the development of the platform, it shifted to its blockchain known as Binance Chain.
The team intended to launch it for letting users avail of discounts on the Binance, but with time it has made itself capable of multiple uses such as using for online payments.
The total number of tokens stands at 200 million BNB out of which a great chunk has been distributed to various groups and members. While it is being made more valuable by the burning process as Binance buys back these tokens from one-fifth of its profits and then burns it to make it scarcer.
Binance Academy
Binance believes in educating the public regarding blockchain and its uses. Therefore it brings Binance Academy which is an educational platform for the users of cryptocurrency with more than 450 videos and articles in 15 languages including German, Italian, and Spanish.
The team intends to provide users with unbiased, educational, and quality-based information that is not only meant for beginners but also serves the needs of those who have the knowledge about the basics and now want to exceed that knowledge to something more complex. This allows for many users to pave their way into the world of crypto along with making their trading and time spent easy and exciting.
Moreover, users also face lesser chances of losing their capital when trading by knowing its do's and don'ts, Binance Academy takes all of that under its control.
Binance Smart Chain
Binance Smart Chain is a decentralized blockchain that makes use of smart contracts, allowing users to create and make use of decentralized applications. Moreover, it provides cross-chain compatibility with Binance Chain so that digital assets can be transferred easily and effectively.
It is also EVM compatible which makes all the projects and assets built on the Ethereum Blockchain available on the Binance Smart Chain as well. Although Binance Chain and Binance Smart Chain run side by side, it is to note that what makes BSC so incredible is that is an independent blockchain which means it would still operate regardless of the availability of the other chain.
This chain makes the use of a Proof of Stake system which makes transactions on the network cheaper and faster than other systems. Users are also allowed to stake their BNB token, making them network validators as well as allowing them to earn a portion of the transaction fee. The aim is to make developers and users enjoy a variety of tools and services to create DApps along with easing the accessibility to assets of the other networks.
Binance Visa Card
Binance has partnered with Visa Company to bring this unique thing into being. Binance Visa Card is a debit card that works similar to a conventional card but is one step ahead by offering the payment process through cryptocurrencies instead of fiat.
This could be an amazing thing for a crypto user as all those who have crypto wallets with funds can trade as well as make purchases where a Visa card is accepted. For now, BTC, ETH, and ADA along with plenty others can be used for making purchases, while there are still many yet to come.
Users receive great benefits for using this card such as No card issuing fees, no sign-up fees, and no annual fees. Moreover, you can earn up to 8% BNB cashback each time you make a payment through this card.
Conclusion
In short, Binance has made all the necessary services available to its users under one name making it immensely popular and worthy of such huge success. Users can now secure their funds, trade crypto tokens, learn all about blockchain technology and speed up all of these processes at cheaper costs by using Binance.
Best Crypto Exchanges: Crypto.com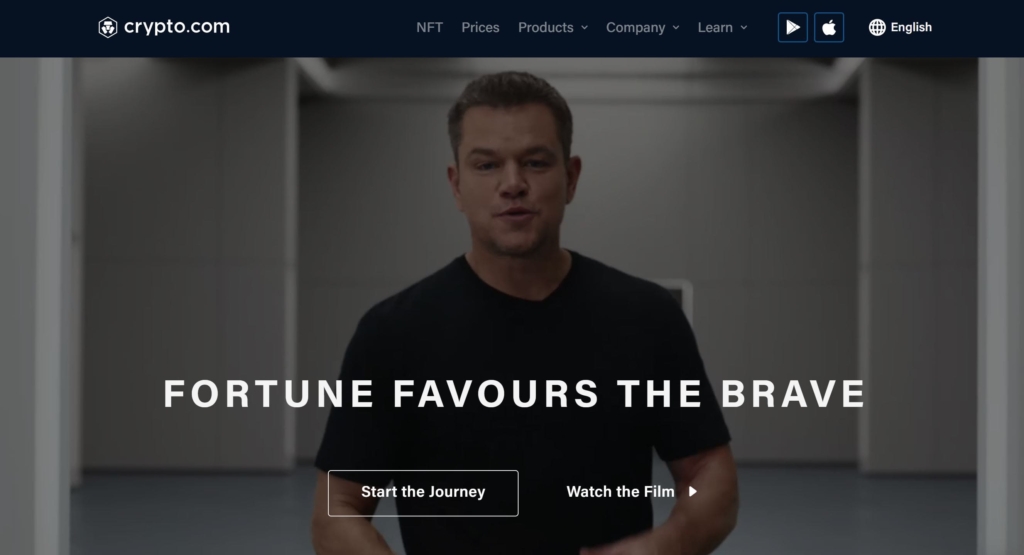 Photo credit: crypto.com
Crypto.com is a cryptocurrency exchange and trading platform that started in 2016 and now has reached a level where it has 50 million users enjoying its amazing services. It was one of the first companies that saw the vast potential of cryptocurrencies and blockchain technology and hoped in to provide the public with an easier understanding of these while offering benefits to attract a larger client base.
Furthermore, the company has partnered with multiple brands to grow its services while it has also spread across the globe, offering its services in more than 150 countries. Crypto.com has also made sure not to compromise on security levels and has therefore used every possible security measure to make its platform a secure and better place for all.
While it has provided services such as its DeFi wallet, NFT marketplace, Debit card, etc. It is for sure that users would be interested in acquiring all the benefits it brings therefore we here bring you all regarding Crypto.com and its extensive services.
Best Crypto Exchange: Crypto.com
Crypto.com offers users a platform that allows them to trade over 200 cryptocurrencies including popular currencies such as BTC, ETH, and LTC. Users can also maximize the security of their account by providing ID documents to verifying team which will also allow them to have unlimited deposits and a 100 BTC withdrawal limit.
Beginners are also taken care of by providing them with a user-friendly interface that makes it easy for them to start their initial crypto journey. The use of their native token CRO also grants users benefits such as high-interest earning and low crypto exchange fees. Moreover, Crypto.com ensures that their services remain transparent for users to maintain their trust in them while to make the platform secure, they monitor each transaction further ensuring that the money flowing into their accounts isn't associated with the black market.
Cronos (CRO)
Cronos (CRO) is the native coin of the crypto.com that intends to revolutionize DeFi. What makes Cronos stand out is its ability to process more transactions per minute than Ethereum, making it faster, cheaper, and more compatible with executing smart contracts. Another reason it is amongst the investors' favorites is that it supports rapid porting of apps & smart contracts from Ethereum and other EVM-compatible chains.
Being compatible with Cosmos and Ethereum, it can benefit from both ecosystems giving much more significant benefits to its investors. It has also stood out as developer-friendly as developers can quickly deploy DApps using its wide variety of tools, further strengthening the Web3 user community. Moreover, users can earn an annual interest of 10-12% and fees for processing transactions on the network by staking their coins.
The rapidly evolving NFT industry has made Crypto.com take steps toward exploring the potential of this side of the blockchain. Therefore, it has launched its NFT marketplace with extraordinary features that have made it capable of withstanding the strong competition from other platforms.
The team has put in tremendous efforts to make the marketplace achieve user friendliness and is working on further increasing the ease to its customers. Users will have to create a separate account to trade NFTs and then connect it with their primary account. This process is a matter of minutes and once their accounts get verified, they are all ready to make their first purchase. Understanding the minimum profits of beginners in this field, Crypto.com has decided to charge no trading fees from users when they purchase NFTs while allowing for payments to be made from debit or credit cards as well.
Moreover, to allow for further accessibility, it has launched an app specifically for buying NFTs through your smartphone, increasing exposure to many people.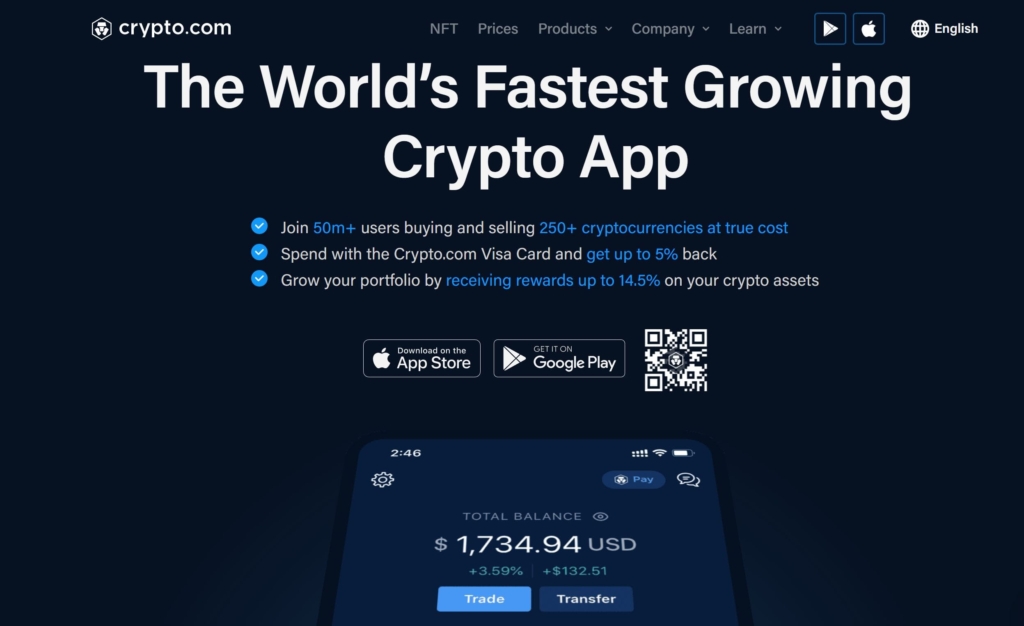 Photo credit: crypto.com
To cater to the needs of their growing users, Crypto.com has partnered with VISA to provide a debit card for allowing users to make purchases directly through their crypto assets. This way instead of just using cryptocurrencies for trading purposes, they can be used to buy at places wherever VISA cards are accepted.
This makes less dependency on fiat currency and while the crypto industry has several benefits for its users, using a crypto bank card adds the cherry on the top. This isn't where it comes to an end, Crypto.com debit card also provides benefits such as no ATM withdrawal fees as well as no annual fees for holding that card. It gets better as users receive 8% cashback on selected places where they are rewarded with CRO (native token) for every purchase they make. While a piece of good news for frequent travelers is that owning a card lets them have access to more than 1,100 airport lounges all around the world.
While providing a complete ecosystem for crypto-related services, launching a DeFi wallet wasn't left behind. Crypto.com Wallet lets users store their assets very securely by providing private keys that lets only the user be in charge of their belongings while fearing no third-party involvement.
Furthermore, users can send or receive up to 78 currencies including the most popular ones. It is accessible for iOS as well as Android users where they can directly connect it with the Crypto.com app and store their assets there safely. Moreover, every possible security measure has been added to make it completely decentralized and secure. Passcode, biometric authentication, and 2-Factor authentication, along with a 12-phrase private key are all a part of the security features. Lastly, another great feature of this wallet is that it allows users to import their assets that are stored on other wallets such as Ledger or MetaMask.
Conclusion
Crypto.com has proved to be worthy of trust and has made huge efforts into building a successful ecosystem around cryptocurrency's uses. It makes sure that it provides all the necessary equipment a user has to have to begin their trading journey while keeping safe what they have gained doing trading. In the crypto space it is considered by many to be the best cryptocurrency exchange. Most cryptocurrency exchanges allow investors to trade bitcoin and buy crypto by using bank accounts to onboard fiat currency.
Best Crypto Exchanges: Coinbase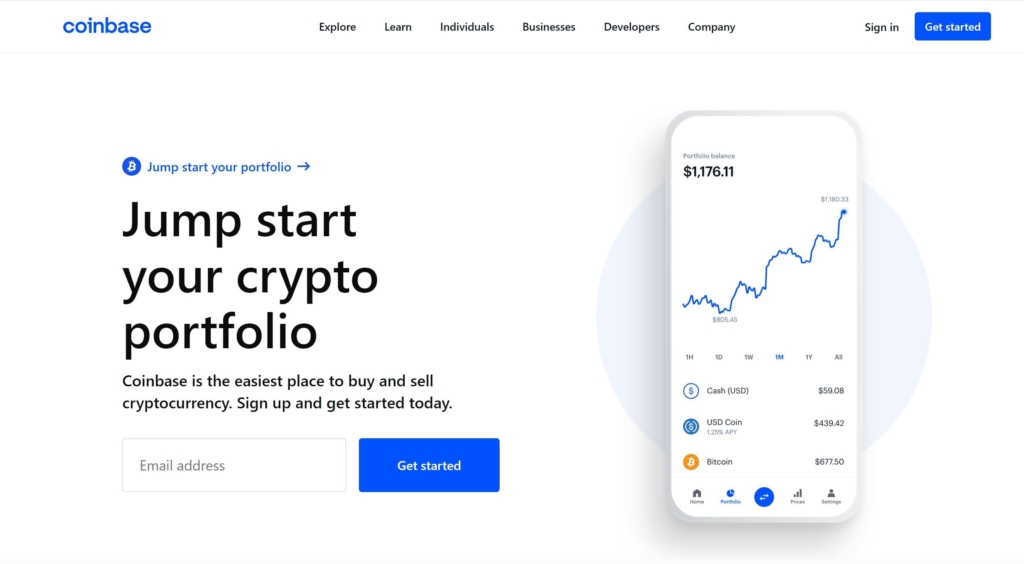 Photo credit: coinbase.com
Coinbase is one of the top cryptocurrency exchanges that allows users to participate in the trading of digital assets over blockchain technology. Although many platforms have come into existence after the growth in popularity of crypto, Coinbase crypto exchange has been there since the start where it offered users to purchase Bitcoin through bank transfers. Another interesting thing about this company is that all of their employees work remotely as they do not currently own any headquarters physically.
Since its initial stage, it has been able to gain trust from several investors which has further strengthened its financial base, allowing it to expand itself all over the world. Another accomplishment made by Coinbase was to partner with companies such as Overstock and Dell.
Therefore, Coinbase has been able to position itself among the top exchanges, due to which they offer various services and benefits for their users. Coinbase Wallet, Coinbase Card, and all the amazing features of its exchange are some of the examples of their services. This blog lets you explore all about Coinbase and its benefits that you might haven't explored yet.
Coinbase Crypto Exchange
Coinbase Exchange is a crypto trading platform that allows users to trade over 100 cryptocurrencies. As one of the top centralized exchanges it lets you view the current market price of different currencies while you can also study the trends and conditions of the markets to make better trades. Users can also send their assets through this app and swap one cryptocurrency for another.
Although it has become the primary exchange for many people nowadays, the early adopters of crypto technology who were very also the first ones to invest in Bitcoin used Coinbase in the first place. Coinbase Crypto Exchange currently has 73 million users while it is the second highest trading volume platform. Whether you are a beginner or an expert, this exchange's user interface has got you covered as it has a simple-to-use design where anyone would be able to make simple trades. While experts who require much detailed and in-depth trading experience prefer to use Coinbase Pro which offers many advanced features along with lower fees.
Moreover, users can also invest in a coin and then leave it in their Coinbase account until they plan on selling it and also buy a fraction of a coin instead of purchasing in whole numbers.
Coinbase Wallet
Just as we require a physical place to store our cash and physical assets, the same way you would require a digital wallet to keep your digital assets safe and secure. Coinbase users are provided with two options to keep their assets secure, while one is to buy and leave your cryptocurrencies in your Coinbase Crypto Exchange account, it could not be the best option as you will not be provided with private keys to your account meaning all security of your assets depends upon Coinbase.
For that reason, Coinbase has launched its wallet that ends this issue by providing the user with their private keys to their wallets, this way their belongings have a lesser chance of theft. People usually go with the second one as they are given full custody over their belongings it is also much safer. Coinbase Exchange can also be connected to Coinbase Wallet which further eases the transfer of funds between the two platforms. Lastly, as Coinbase is accepted as one of the biggest crypto trading platforms, its wallet is given equal importance, therefore, being accepted for payment transfers on many websites.
Coinbase Card
A Coinbase card is a feature that lets users make purchases directly through their crypto account, eliminating the need for paying with cash or bank transfer. However, this service is restricted to the citizens of the USA for now only which reduces its usage. Although, people who are eligible to have this can benefit greatly by availing of rewards after every purchase. Users are also charged no transaction fee on using the USD or USDC to make payments while the middleman is also eliminated as it extracts funds directly from your account. Moreover, the best thing about is that people can use this card wherever VISA cards are accepted, which are quite common in almost every country.
Coinbase NFT
NFTs have become incredibly popular that have even convinced the greatest investors to own an artwork. While the market has no plans to put an end to this growth, Coinbase had to jump in with its marketplace. A user-friendly platform that allows users to buy and sell NFTs. Although there are plenty of options available for marketplaces, Coinbase offers many benefits to make you convince into using theirs in the first place. Users can use Ethereum as the mode of payment for now while there are plans to add more cryptocurrencies for that task. Your Coinbase wallet can be connected to this platform and then you can either mint your own or buy NFTs using funds from that wallet. Lastly, there are a variety of projects available ready to be purchased from the Coinbase marketplace which also lets users explore projects from different platforms.
Conclusion
Coinbase can be considered one of the best crypto trading platforms if you are new to the crypto markets or haven't checked out its services yet. It provides amazing features and accessibility to tools that would take your crypto experience to another level. Furthermore, you can also be assured of easily selling your assets as Coinbase provides high liquidity at a reasonable charge.
Best Crypto Exchanges: Kraken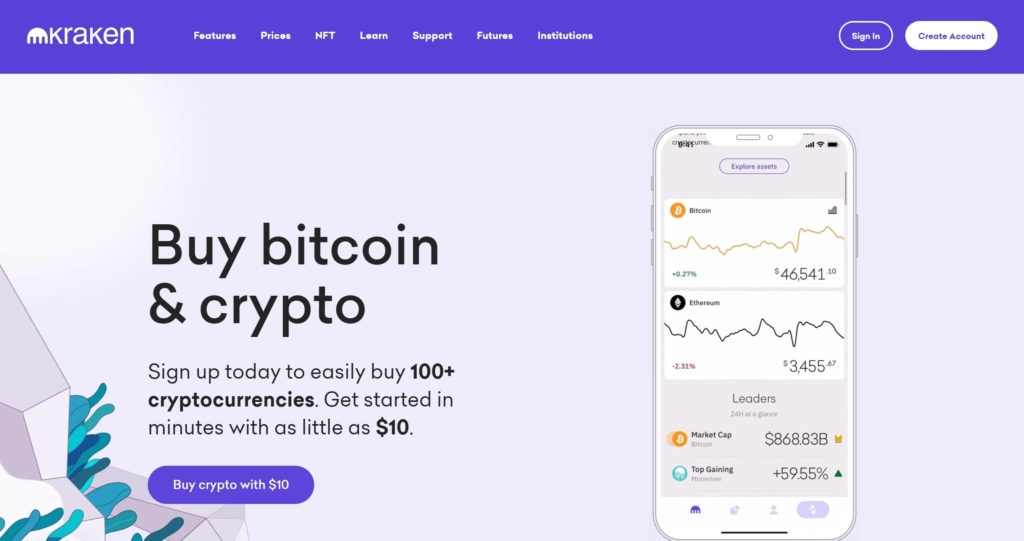 Photo credit: kraken.com
Kraken is a cryptocurrency trading platform that first began offering Bitcoin and Litecoin to users in 2013. From day one it aims to maximize the security around its services offering a trustful and secure environment for the trading of digital assets. Kraken has been popular not only amongst the experts but it has proved to be easier for the newcomers as well due to its user-friendly interface and accessible and easier trading features. With more than 160 cryptocurrencies, it holds a significant amount of volume and provides high liquidity that makes your assets easily tradable. While experts who prefer more advanced trading options like margin and future trading can access Kraken Pro which has everything a user can demand.
Moreover, regardless of such advanced features, Kraken keeps up with the average fee structure letting users earn more and pay less for fees. However, that is not where it ends, Kraken is one of the major crypto exchanges and has much to offer which this blog further lets you explore.
Kraken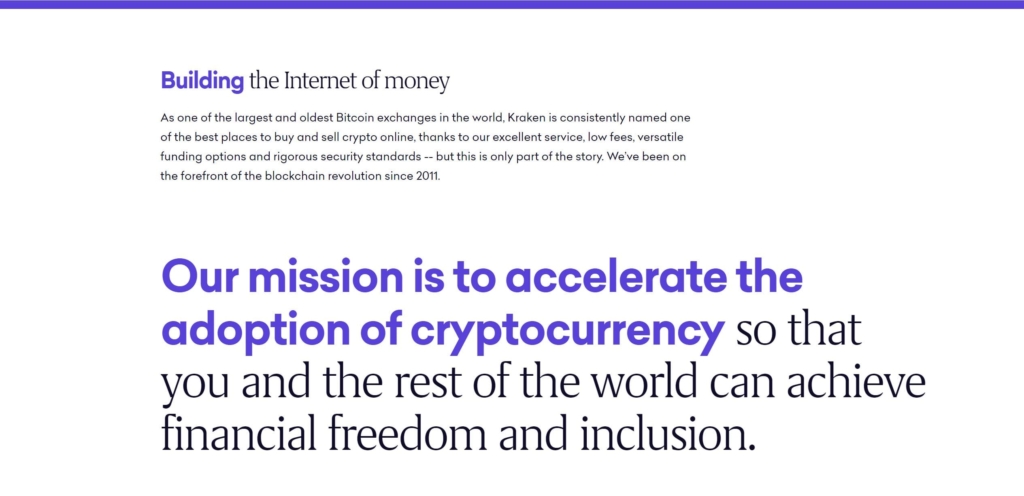 Photo credit: kraken.com
Kraken exchange is one of the first ones to enter the crypto markets through its vast features and trading options. It currently has over 160 cryptocurrencies listed including popular ones such as Bitcoin, Ethereum, etc. In addition to that, users can swap their fiat currency using the available pairs such as swap USD for Euro. This has eased the process of getting your local currency exchanged especially when you are already in another country. Kraken offers its exchange as a mobile phone application or it can also be accessed through the web which caters to mobile users as well as users who prefer to use their computing devices for trading.
Furthermore, as mentioned Kraken has been very particular about its security and therefore has never been hacked even once since its launch while other exchanges have seen many vulnerable cyber-attacks causing the loss of many millions of dollars. The best thing about this exchange is that it has over $1 billion volume, this evaluates that users of this platform won't be witnessing any difficulties while trying to buy or sell their assets. Lastly, Kraken offers three types of accounts; beginner, intermediate, and pro, which you can choose depending upon your expertise and experience.
Trading Features
Kraken has a huge user base and therefore offers a wide range of features to keep all of them satisfied with the trading experience. Kraken offers experienced crypto traders margin trading, short sales, and stop orders. This proves to be the best if you plan on multiplying your profits up to 5 times or protecting what you have currently gained. However, with the availability of these options comes high risk too as if you make use of margin trading, you borrow money to invest which could also lead to a greater loss if you are margin trading.
Moreover, Kraken offers expert traders with Kraken Pro which has the above-mentioned features while the basic version lets you trade cryptocurrency with no such features. However, Kraken lets users stake their assets at up to 23% return while Kraken pro offers margin trading with a 5x option. Users who have an account on the Kraken platform can choose to use Kraken Pro which does not demand anything additional or complex to be a part of it.
Trading Fees
Kraken offers a great trading fee structure although not the cheapest one. Considering the hefty amount other exchanges charge, Kraken has said to be much lower than them as it charges a 1.5% fee for most cryptocurrencies while 0.9% for stablecoins. Fees on Kraken Pro has said to be much lower than Kaken as it charges based on your total trading volume over the last 30 days.
Dark Pool Crypto Trading
It is quite common to hear people sharing about how a user has purchased a significant amount of XYZ cryptocurrency. This is due to the order book which allows other traders to keep a check on others buying and selling volume. Kraken provides anonymity over this case with its Dark pool. A dark pool is an order book that is anonymous to the rest of the market and lets only an individual know about their trade. Users can therefore place large orders of buying or selling without letting any third party know about their trades. Making use of this service allows for reduced market impact and better prices for larger trades. However, Dark Pool only supports the currency pairs for Bitcoin and Ethereum for now which can be a downside if you intended to make trades for any other coin.
Kraken NFT Marketplace
With the current boom in the NFT space, Kraken is all set to launch its NFT market place which will allow users to have access to many NFTs over various blockchains on a single platform. Users who want to sell their artworks can list them in USD, EUR, or with the rest of the cryptocurrencies that Kraken supports. Just like the rest of its platforms, this one will also be protected under strict security measures assuring all the assets remain safe. Lastly, Kraken would be adding a feature of paying royalties to the original creator on every resale as a tribute for making advancements in its platform.
Conclusion
In conclusion, Kraken offers a variety of services that you can choose from regardless of your experience or expertise in this field. Moreover, if you have been a victim of cyber theft or want to protect your belongings, Kraken is for sure your way to go. Although no one guarantees the safety of your assets completely they can be secured up to a great level restricting the chances of theft in the future.
Best Crypto Exchanges: Gemini.com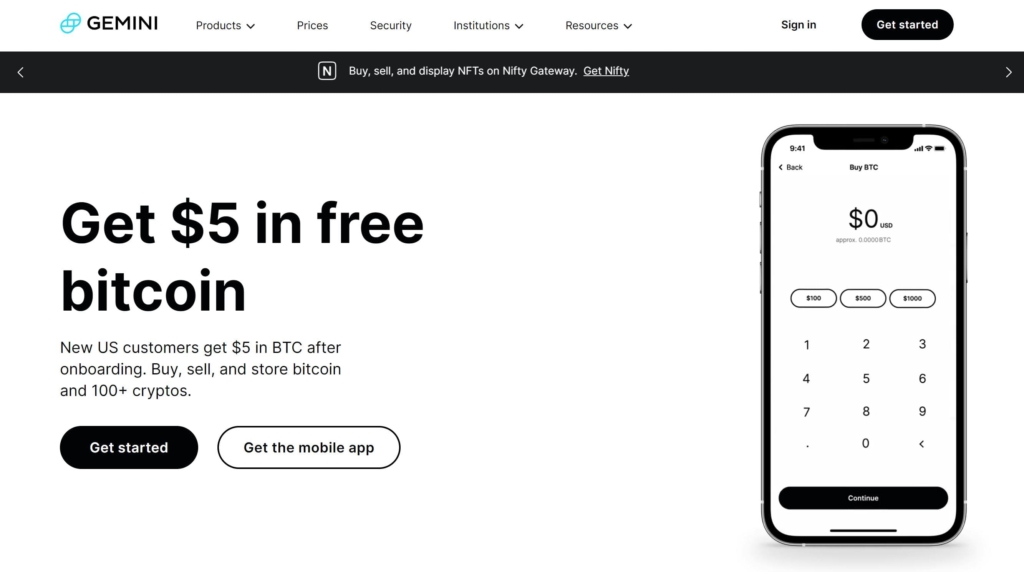 Photo credit: gemini.com
Gemini As One of The Best Cryptocurrency Exchanges
Gemini is considered one of the best crypto exchanges that was one of the initial companies to provide users with the ability to purchase Bitcoin. Since then they have focused mainly on securing users' assets through various means. Gemini had first introduced the private keys to the crypto industry that allowed users to own digital assets in a decentralized and secure manner. Moreover, Gemini has been able to secure users' assets by allowing insurance on certain coins and tokens available on its platform by partnering with Aon. This has allowed them to build a relationship of trust with their users which has further played a significant role in the success of Gemini.
Gemini has also been able to name itself as the first licensed Ethereum exchange after it was approved by the authorities of the United States. Moreover, it has taken a lead from other crypto trading platforms as it is available in all of the 50 US states while its services reach out to more than 60 countries. These reasons have contributed to Gemini owning a large user base which enabled them to raise an investment of $400 million to further exceed their services. Talking about services, it provides just much as other crypto platforms do with Gemini Credit Card, Gemini Wallet, and the Nifty Gateway being part of that list. With so much to know about Gemini, we here help you in acquiring all the necessary information you will require to get started with being a user of their mind-blowing services.
Gemini Exchange
Gemini Exchange is a platform where users can buy or sell over 100 cryptocurrencies. While to increase accessibility, the team has offered a user-friendly exchange which is available as a mobile app and as a website so that you can trade your assets at ease. The fee structure of Gemini is a little extra in comparison with other platforms as it charges transaction fees as well as a convenience fee although it is still a small percentage of your total trade. Gemini lets users withdraw their funds without any charge unless they exceed the per month limit which in this case is 10 withdrawals.
It also offers an earning program for its users through which they can earn up to 8.05% APY by lending their crypto coins to borrowers. However, assets stored under the Gemini Earn program are not considered for the insurance policy as they are under the use of Gemini's third-party partners. Furthermore, to maintain its security features, users would have to get their identity verified to explore the full features of the Gemini Cryptocurrency Exchange.
Nifty Gateway
Nifty Gateway is an NFT platform owned by the Gemini Company which opens a gateway to a relatively new place of investments that are non-fungible tokens. This platform allows for the trading of various types of NFTs including murals of celebrities, artworks, music, and much more. While having artworks of famous artists such as Beeple, has made this platform more popular. There are various ways of getting your hands on the NFT you like by either participating in an NFT draw or placing a bid in an auction. Moreover, users can make purchases through Ethereum or buy buying credits through their debit/credit card.
However, if you want to become a seller and want to list your NFT on this site, you'll have to complete an interview and answer some questions. While the only way you can import your NFT, for now, is by connecting your Nifty wallet with MetaMask.
Gemini Wallet
Gemini offers a hot wallet for users to store their precious digital assets over there. This wallet supports over 80 cryptocurrencies with the popular ones being among them. Gemini charges no fee for withdrawal or deposits made under 10 times a month however transaction fees may still apply. The primary reason for storing your assets here would be security reasons, as Geminis is very much concerned with protecting its users' belongings, you can expect secure and trustworthy services from them. Moreover, it also applies an insurance policy over your stored assets which further assures the safety of your assets. Gemini wallet is available as a mobile app as well as a website. This wallet can be further accessed through Gemini Pay which allows you to make direct payments from your digital wallets over many stores and online brands.
Gemini Credit Card
Offering debit/credit cards have become very common among different crypto platforms. However, Gemini offers it uniquely as users earn cryptocurrency instantly whenever they purchase whereas other cards offer cash back on purchases which later can be converted into crypto. In addition, Gemini offers 3% cash back on dining, 2% cash back on groceries, and 1% cash back on all other purchases made through cryptocurrency that are available on Gemini's platform.
This further allows users to make use of not only the popular ones but also the lesser-known cryptocurrencies. Moreover, having access to Gemini Credit Card gives users the ability to pay no annual fee or exchange fee when they want to redeem their rewards and use it wherever MasterCard is accepted. The best thing about this is that in case of theft or misplacement of the card, users can freeze it via the Gemini app or get support from the 24/7 customer support channel. However, not everyone can get access to this card that easily as you'll have to participate in a waitlist until you lay your hands on this piece.
Conclusion
In conclusion, Gemini like most centralized exchanges is offering a lot of services, and being one of the first ones to let users buy Bitcoin has enabled it to be much more popular. The best thing remains that Gemini mainly focuses on securing users' assets which gives a sense of relief as you remain faithful to Gemini protecting your belongings to a great extent.
Other Crypto Exchanges Include
Decentralized exchanges such as PancakeSwap, Uniswap, SushiSwap, and others are popular in decentralized finance. We'll cover below. Selling crypto or "swapping" it can be done on different decentralized exchanges. As with all crypto exchange fees each platform determines the fee for each transaction. I will link here the new guide which I am creating now.